Call the show at 877-969-8600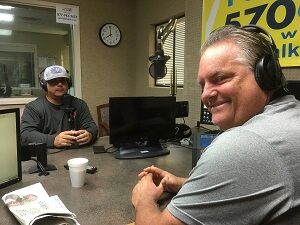 Big TV Contracts…Big Endorsements…Big Bucks… How about we dial it back to where it all began? The Sports Zone with Patrick Highland. Call in Live, Sundays from 11 am - 12 pm on 1380 The Biz. The number is 877-969-8600, and Patrick, Scott and Jason are ALWAYS down to talk high school, college and pro sports!
Show Links:
Sponsored By:
---
---
Patrick Highland is a patriot and lover of sports - particularly Florida generally and Tampa specifically. Originally from the Miami area where he excelled as a quarterback in HS, Patrick blends his years of intense sports interest with irreverent humor to form a great Sunday morning sports show to get you ready for all the games coming up!