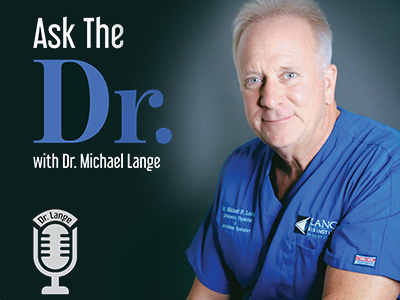 Ask The Doctor is hosted by Dr. Michael Lange, a Board Certified Optometric Physician and Certified Nutrition Specialist. He also has degrees in psychology and physiological optics.

As the founder of Lange Eye Care and Associates and the Lange Eye Institute, Dr. Lange has always been focused on sharing his knowledge and experience to help serve a larger audience. This is why in 1993 he launched Ask The Doctor, a popular radio talk show on eye care and nutrition.

He's extremely passionate about helping people maximize people's health and well-being through proper nutrition, and spends his time educating eye care provides worldwide on proper nutrition and the benefit of it for their patients.

Fun fact about Dr. Lange: He actually sits down each and every night to answer inquiries on the Fortifeye website! What other vitamin company actually lets you talk directly to the doctor that is responsible for the development of their products?

Disclaimer: This is for educational purposes only and should not replace a comprehensive eye examination or medical evaluation.
Show Links:
---
Dr. Michael Lange, Board Certified Optometric Physician and Certified Nutrition Specialist has been hosting " Ask The Dr"a popular talk show since 1993. He can be heard all around the world on multiple radio networks and the internet . This talk show is all about educating the public about the latest in eye care and nutrition. Dr Lange also has degrees in Physiological Optics and Psychology. Years of clinical experience and his educational background enables him to tactfully handle just about any question asked over the radio. His unique gift of discussing even the toughest questions in easy to understand terminology has made him a very popular talk show host . Dr Michael Lange's website will help keep you abreast of the latest advancements he discusses on social media, blogs, videos, podcasts and much more www.drmichaellange.com
When Dr. Lange is not seeing patients at The Lange Eye Institute he is involved in Research and Development of nutritional products, diets and supplements for the support of the eyes and complete body. He was not satisfied with the typical vitamins and health food supplements that were available over the counter, so he started the Fortify Vitamin company in 2005. He has developed a line of evidence based vitamins for eye and complete body health called Fortifeye Vitamins that are being recommended by doctors all over the world. In 2019 Dr Michael Lange launched Fortifeye Performance Nutrition line to compete in the sports nutrition arena. These supplements are designed to enhance muscle synthesis, strength and endurance at any age. More information on the Fortifeye Vitamin line is available at Fortifeye.com. Dr Lange has a very tight schedule however he finds the time to spend with family and workout in the gym for 1 1/2 hrs a day. He also takes some time to enjoy the sport of automobile racing and motocross. He is a full competition race car driver in both SCCA and NASA . He races formula , LMP3 prototypes ,GT race cars and has been known to twist the throttle at many motocross tracks .